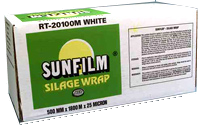 GeorgiaTwine has been fortunate to acquire a large shipment of SunFIlm in both 20" and 30" sizes. We are passing the deals on to you. Sunfilm is the "standard" for silage wrap and a trusted product across the United States.
SunFilm Features:
Superior strength and barrier properties create an airtight seal for up to twelve months of outdoor storage with nutritional levels maintained.
75% Stretch capability.
Greater ultraviolet protection with denser reflective white to assure feed quality.
The Sunfilm® name is synonymous with quality wrap.
When added film strength is needed and for square bale wrapping, our new product will solve your problem.
We are offering great deals on both 20"x5000' and 30"x5000' with the highest discount for orders of a pallet or more. Additionally, if personal delivery is available, we will research the best freight options to limit your costs on shipping.
Give us a call or contact us HERE and we will provide a custom order with the gratest of savings.